Turismo sostenible a través de innovaciones de economía social
Sonia Tello Rozas

Université du Québec à Montréal
Palabras clave:
Desarrollo turístico sostenible, Economía social, Innovaciones sociales, Perú
Resumen
Esta nota de investigación presenta los principios que definen el campo de la economía social y discute las características de las organizaciones que lo conforman. Teniendo en cuenta la definición y delimitación de este campo, discutimos la pertinencia y el rol de las organizaciones de economía social en el ámbito del turismo.
Descargas
La descarga de datos todavía no está disponible.
Citas
Arellano, A. (2011). Tourism in poor regions and social inclusion: The porters of the Inca Trail to Machu Picchu. World Leisure Journal, 53(2), 104-118.

Baptista, E. & Bartholo, R. (2010). Les entreprises sociales de base communautaire, nouveaux protagonistes pour un autre développement. Une étude sur quelques groupes productifs dans le contexte Brésilien. Innovations, 3(33), 203-224.

Bouchard, M. (2010). The evaluation of the social economy in Quebec: With regard to stakeholders, mission and organizational identity. En M. Bouchard (Dir.). The Worth of the Social Economy: An International Perspective (pp. 11-132). Bruselas: CIRIEC y Peter Lang.

Bouchard, M. (2011). Introduction. L'innovation sociale en économie sociale. En M. Bouchard (Dir.). L'économie sociale. Vecteur d'innovation. L'expérience du Québec (pp. 1-20). Québec: Presses de l'Université du Québec.

Bouchard, M. (2012). Social innovation, an analytical grid for understanding the social economy: the example of the Quebec housing sector. Service Business,6(1),47-59.

Bouchard, M. (Ed.) (2013). Innovation and the Social Economy: The Quebec Experience. Toronto: University of Toronto Press.

Defourny, J. & Nyssens, M. (2010). Conceptions of social enterprise and social entrepreneurship in Europe and the United States: Convergences and divergences. Journal of Social Entrepreneurship, 1(1), 32-53.

Demoustier, D. & Richez-Battesti, N. (2010). Les organisations de l'économie sociale et solidaire: gouvernance régulation et territoire. Géographie Économie Société, 12(1), 5-14.

Desforges, J. G. (1980). Stratégie et structure des coopératives. Revue du CIRIEC, número especial: Stratégies et développement des coopératives,12(1), 32-58.

Evers, A. & Laville, J. L. (2004). Defining the third sector in Europe. En A. Evers & J. L. Laville (Eds.). The third sector in Europe. Northampton: Edward Elgar Publishing.

Huaita, A. M. (2012). Ecoturismo y desarrollo humano. El caso de una asociación privada con la comunidad de Infierno. Turismo y Patrimonio, 7, 24-31.

Kerlin, J. A. (2006). Social enterprise in the United States and Europe: Understanding and learning from the differences. Voluntas: International Journal of Voluntary and Nonprofit Organizations, 17(3), 246-262.

Klein, J. L., Fontan, J. M, Harrisson, D. & Lévesque, B. (2012). The Quebec system of social innovation: a focused analysis on the local development field. Finisterra. Revista Portuguesa de Geografia, XLVII(94),9-28.

Lane, M. D. & Casile, M. (2011). Angels on the head of a pin: The SAC framework for performance measurement in social entrepreneurship ventures. Social Enterprise Journal, 7(3), 238-258.

Laville, J. L. (Ed.) (1994). L'économie solidaire. Une perspective internationale. Paris, Desclée de Brouwer, 1994. Légaut, G. (2013). L'UCPA, entreprise associative sociale et solidaire. ESPACES Tourisme et Loisir, 310, 111-114.

Lévesque, B. (2013). How Social Economy Won Recognition in Québec at the End of the Twentieth Century. En M. Bouchard. Innovation and Social Economy. Toronto: University of Toronto Press.

Mertens, S. (Ed.). (2010). La gestion des entreprises sociales. Lieja, Belgica: EdiPro. Nyseens, M. (Dir.). (2006). Social entreprise. London: Routledge.

Pérez, B. (2012). Retóricas de turismo y desarrollo en los Andes. La red de turismo rural comunitario Pacha Paqareq, Perú. En R. Asencio & B. Pérez (Eds.). ¿El turismo es cosa de pobres? Patrimonio cultural, pueblos indígenas y nuevas formas de turismo en América Latina. Colección Pasos Edita Nº 8. IEP. Recuperado de http://www.pasosonline.org/Publicados/pasosoedita/PSEdita8.pdf

Pozzebon, M., Tello Rozas, S. & Delgado, N. (2013). The use and consequences of participatory GIS in a Mexican municipality: Applying a multilevel framework. RAE. Revista de Administração de Empresas - Journal of Business Administration (en prensa).

Quarter, J., Mook, L. & Armstrong, A. (2009). Understanding the Social Economy: A Canadian Perspective. Toronto: University of Toronto Press.

Richez-Battesti, N. & Oswald, P. (2013). Les principes de l'économie sociale et solidaire au cœur de la stratégie des Villages Clubs du soleil. ESPACES Tourisme et Loisir, 310, 99-110.

RISQ (2008). Guide d'analyse des entreprises d'économie sociale. Québec: Réseau d'Investissement Social du Québec.

Rousselière, D. & Bouchard, M. (2011). À propos de l'hétérogénéité des formes organisationnelles de l'économie sociale: isomorphisme versus écologie des organisations en économie sociale. Canadian Review of Sociology. Revue Canadienne de Sociologie, 48(4), 415-453.

Salamon, L. M. (1996). The Emerging Nonprofit Sector: An Overview. New York: Manchester University Press.

Tello, S. & Gauthier, B. (2012). Les tontines favorisent-elles la performance des entreprises au Cameroun? Revue d'Économie du Développement, 26(1), 5-39.

Tello, S. & Paredes, J. C. (2002). Turismo, pobreza y desarrollo. Una propuesta de análisis para América Latina. Alcuth, 1, 29-51.

Vaillancourt, Y. (2006). Le tiers secteur au Canada, un lieu de rencontre entre la tradition américaine et la tradition européenne. Canadian Review of Social Policy. Revue Canadienne de Politique Sociale, 56, 23-39.

Vásquez, E. (2012). El Perú de los pobres no visibles para el Estado: La inclusión social pendiente a julio del 2012. Documento de discusión DD/12/04. Lima: Centro de Investigación de la Universidad del Pacífico.

Verdera, F. (2007). La pobreza en el Perú. Un análisis de sus causas y de las políticas para enfrentarla. Lima, Instituto de Estudios Peruanos.

Viannay, C. (2013). VVF Village, entreprise d'économie sociale et solidaire. ESPACES Tourisme et Loisir, 310, 115-117.

Vienney, C. (1980). Rapports d'activités et rapports de sociétariat. En J. G. Desforges & C. Vienney (Dir.). Stratégie et organisation de l'entreprise coopérative (pp. 251-286). Montreal: Éditions du Jour.

Vienney, C. (1994). L'économie sociale. Paris: La Découverte.

Weisbrod, B. (1988). The nonprofit economy. Cambridge: Harvard University Press.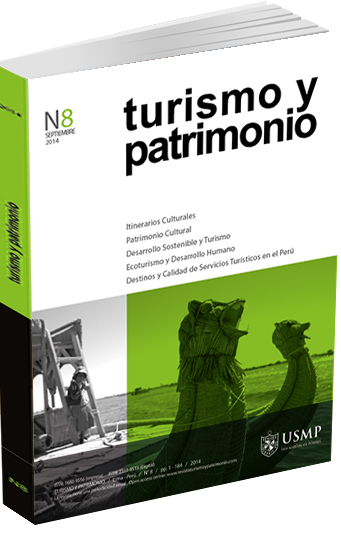 Cómo citar
Tello Rozas, S. (2017). Turismo sostenible a través de innovaciones de economía social. Turismo Y Patrimonio, (8), 93-100. Recuperado a partir de http://ojs.revistaturismoypatrimonio.com/index.php/typ/article/view/52
Sección
Enfoque económico
Derechos de autor 2014 Turismo y patrimonio
Esta obra está bajo licencia internacional
Creative Commons Reconocimiento-NoComercial-CompartirIgual 4.0
.